By Doug Marman
Here is the talk that I gave in Toronto at the end of September. It is titled: The Call of the Unknown. You can see a video of this talk below.
In this talk I approach one of the most important elements that distinguishes a spiritual search from a typical search for knowledge. This is hardly ever talked about.
When we search for knowledge, we usually set out with a plan of some kind to learn about something that we already have some idea about. For example, we look for a book that can give us a better understanding of some era in history, or added insights into some field of science, or some pointers on how to find a job, how to paint, or how to raise children.
A spiritual search, however, is a search to gain something that is beyond our understanding. We don't even know what it is that moves us or calls us to this search. We might think that we have an idea of the information that we would like to find, but the farther we follow the call of the unknown, the more it changes us. And we soon realize that we knew nothing about the real meaning of the spiritual path when we started…
---
By Doug Marman
Farzad Khalvati gave a talk at the University of Toronto, based on a topic that he, Mitra Shafaei and I have been working on together. It offers new insights into how to understand the hidden meaning in Rumi's poetry and discourses. You can watch the talk below:
Farzad, Mitra and I have been translating Rumi's poems using the same approach that I learned when translating Rumi's discourses, combined with Farzad and Mitra's deep understanding of the Farsi language.
In each poem, our approach has revealed a hidden meaning that was not seen through a traditional interpretation. Each time it has surprised us to see the meaning that emerges. After finishing more than 20 poems from Rumi's famous Divan-i-Shams-i-Tabriz, we found three insights that have helped us with understanding Rumi's poetry…
---
By Doug Marman
A paper I wrote for the peer reviewed Integral Review Journal was just published. You can read the paper here: http://integral-review.org/current_issue/vol-14-no-1-aug-2018/
This paper is a formal scientific paper that I have been working on for two years, so parts of it get a bit technical. However, I have tried to write it to be understandable to anyone who enjoys science and knows something about quantum physics. If you have read my book, Lenses of Perception, you will see that this paper presents the same ideas in a more formal and more thorough scientific manner.
The editor of Integral Review Journal, Jonathan Reams, introduces my paper with these comments:
40 years ago I began my university education studying physics, but dropped out and later turned to studying consciousness (and leadership). Along the way I have encountered numerous perspectives on the relationship between the two subjects, with a polarity in perspectives, from materialist interpretations to idealist ones. This conversation continues today, being taken more and more seriously as it becomes apparent that we cannot ignore an integral view of the intimately intertwined nature of consciousness and matter. The science magazine Nature recently highlighted this as an ongoing conundrum (see article here). An example of an integrative perspective comes in the notion of panpsychism, that consciousness is a fundamental feature of physical matter, which is being taken seriously by a wider range of mainstream physicists and others (see article here). All of this leads into the territory IR has always been intended to serve as a platform for new thinking from an integral view.
Thus we fittingly begin this issue with Doug Marman's The Lenses of Perception Interpretation of Quantum Mechanics. At IR, we are always on the lookout for new thought and Marman delivers on this. His article is a substantive piece of investigation into some of the most fundamental questions science has ever tried to answer…
---
By Doug Marman
I will be giving a talk at a university in Toronto on Friday, October 5 at 2:00 PM – 3:00 PM, EDT, at York University, 4700 Keele Street, Toronto, ON, Toronto, Ontario M3J 1P3. The public is welcome to attend.
You can find more information about the talk at these three links:
Facebook, Meetup, The Hidden Teachings of Rumi webpage
Here is an overview of what I will be talking about: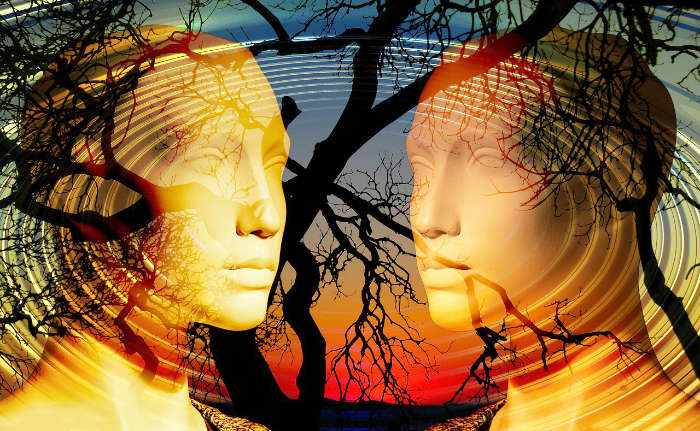 For the last 100 years, psychologists have been moving toward a more scientific approach, to find principles that can be established on the firm ground of objectivity. At the same time, quantum physicists have been turning the foundations of physics in exactly the opposite direction, toward the realization that objectivity is impossible when observing quantum behavior; that "forces" do not force particles, they only influence them; and that it is quantum entanglement between particles and the environment that create the appearance of a solid objective reality…

---
By Doug Marman
I've been invited back to Toronto, Canada, to give another talk about The Hidden Teachings of Rumi.
The talk will be held Sunday, September 30, 1:00 PM – 3:00 PM, EDT, at the Aurora Public Library, just north of Toronto. I hope to see you there.
Here is a quick description of what I will be talking about:
The spiritual path is not a path where we find answers that bring an end to our questions. It is a path that leads deeper and deeper into the unknown.
As the Sufi poet, Rumi, says, we have to continually give up everything we think we know to take the next step on the spiritual path. This means, over and over again, becoming a beginner, like a child who sees life as completely new. We need to keep starting over because our experience with life changes us as we grow spiritually. We are changed so deeply that we see the world through different eyes.
We like to reassure ourselves about how much we know and how much we have learned, especially as we grow older. It gives us the feeling that we are standing on firm ground and that we know who we are. However, this won't do us much good if we are seeking what Rumi calls the real jewel of life—the treasures hidden in the unknown. To find the wisdom of the invisible worlds within us we must let go of the firm ground beneath our feet and who we think we are. We must risk everything. This is every bit a true adventure.
You can find more information at these links:
Facebook, Meetup, The Hidden Teachings of Rumi webpage

---
By Mitra Shafaei,
Rehabilitation Therapist,
Registered Kinesiologist (Ont. Canada), MSc, BSc
Doug Marman's new book, "The Spiritual Flow of Life" helped me understand how to form a constructive and inspiring relationship with our bodies.
We have all heard about the use of "mindfulness" and "positive thinking" as ways of relieving illness. They are now a well-known trend in the healthcare field of our times. However, it is not exactly clear why these strategies work—and more importantly how they work. And it is not always easy to educate patients—especially when they are going through the most difficult time of their lives—to use such techniques as an important element in their treatments. However, what Doug talks about in his book, "The Spiritual Flow of Life," goes beyond mindfulness and positive thinking strategies.
To give a little bit of background, I have been working in the field of rehabilitation for over 15 years. The range of patients that I provide treatment for is quite wide; from people who suffer from chronic pain, such as fibromyalgia, to patients who are dealing with acute injuries related to motor vehicle accidents.
I always find it helpful to have my patients see themselves as one of the active participants in the circle of their healthcare providers. I encourage them to be a part of the team, instead of expecting that their cure will come to them from "outside"…
---
By Doug Marman
There's a mystery at the heart of biology: What makes organisms alive? This book takes us on a spiritual quest to clearly understand life.
Catalysts are keys to solving this puzzle. The new insights gained are transformative. Seeing the way life works—the way if FLOWS—changes what it means to be alive.
ISBN 978-0-9793260-1-1         212 pages / $16.75

Excerpt from THE SPIRITUAL FLOW OF LIFE:
INTRODUCTION
There is an enigma at the heart of biology. Scientists are baffled by the mystery of what it is that makes organisms alive. Even simple single-celled creatures seek food and run away from threats in self-directed ways that amaze scientists. This book takes us on a spiritual quest for a clear understanding of how life works.
Solving this puzzle offers deep insights for both physical and spiritual growth. Seeing the way life works, the way it flows, changes what it means to be alive.
---
By Doug Marman
Last summer I was invited to speak at a talk for "Spiritual Dialogues on Rumi's Legacy and Teachings," in Toronto, Canada. It is part of an on-going series of public talks on Rumi and Consciousness. The group has been using my book, "It Is What It Is — The Personal Discourses of Rumi," along with Rumi's poetry, to explore the hidden teachings behind Rumi's teachings. I gave the talk based on a simple lesson I've learned:
Something extraordinary takes place when discovering new insights into life through deep discussions with friends. Time seems to stand still as new perspectives suddenly open up before us. In such moments we sense the scope of truth so fully, as a whole, that it alters our experience, giving us the feeling we are touching life itself. This is the magic of spiritual dialogue.
A thirty minute video captures a portion of this talk. It is called, "Seeing the Invisible — From Rumi's Poetry to the Fullness of Atoms. To see the video click the button below:
---
By Doug Marman
Not everything can be explained with words. Not every situation can be understood. Not everyone fits into the boxes we try to put them in.
Life is a mystery. Some questions should not be answered. Some questions are for living with, like a companion. Not every picture needs words. Sometimes a kiss is just a kiss.
Not every day can be extraordinary, or extraordinary days would be ordinary. But every moment is meaningful and seeps deeper into our beingness than we realize.
Our mind desperately wants to understand, but not knowing is also a gift because it keeps us learning. Not everything has a beginning and an end. Sometimes it just is.
Where is life taking us? Ask life.
Do you know how to ask life? Do you know how to listen to life's answers?
---
By Doug Marman
My wife, Karen, recently remembered a dream she had many years ago. In her dream she was at a seminar, in a roundtable discussion. Paul Twitchell was there. He started talking:
"Love connects everything," he said. "All of life is held together by love. Every rock, every tree…everything."
Thinking about this dream and looking across the decades since she had it, she said to me, "Listening to what Paul said was one thing, but knowing it is altogether different."
This goes to the heart of the spiritual path: How do we know, really know, the meaning of spiritual love?
We won't find it by reading books or listening to talks—although the stories of others can increase our hunger for it. Knowingness doesn't come from thinking about love or trying to understand it with our mind. In fact, if we try to go after love directly, the very thing we are pursuing runs away from us.
---
By Doug Marman
In part I of this series, I wrote about the enigma at the heart of quantum physics that has baffled physicists for a hundred years. It's a mystery that can finally be explained: Relationships are the true causes of everything we see in the world.
The forces of physics start as relationships between particles. They produce patterns that look like external forces only when billions of particles are involved. As soon as we dive down to the level of electrons and quarks, the whole picture of cause-and-effect reactions falls apart. Instead, we find the unpredictable nature of relationships driving everything.
We find the same thing on the human level. When you look at countries with millions of people, customs change slowly. Large institutions are the same way. They often act more like lumbering, mindless machines that move at the speed of glaciers. But once we look closer, at the lives of individuals, we see creativity, learning, and the dynamism of relationships.
In part I, I wrote about how the I Ching and Lenses of Perception see the influence of relationships on the outer world—our physical universe. But before we explore the inner side of this story, there are a few things worth mentioning.
---
By Doug Marman
For over a hundred years, the bizarre mysteries of quantum mechanics have puzzled physicists. Most have given up trying to explain the strange behavior of subatomic particles. Scientists haven't been able to find an intuitive answer. As a result, the quantum revolution is incomplete, as I said in another article, because we haven't gained any wisdom in our lives from this great discovery.
Lenses of Perception offers a new approach. These mysteries do make sense and we can learn valuable lessons from them. We simply need to look at quantum behavior as the result of relationships. This offers us new insights into the true nature of life.
I'm still absorbing the meaning of it all. So, I keep running into discoveries that take me by surprise. For example, the realization just hit me that none of this is new. A deep understanding of the quantum enigma was known over three thousand years ago, under a different name.
This didn't occur to me until after I finished Lenses of Perception. As the first copies began shipping, memories of an ancient book, the I Ching, unexpectedly came to mind. All at once I had the oddest idea: The I Ching and Lenses of Perception are both describing the same thing.
What a strange thought. Could this be right? I began flipping through pages of the I Ching — The Book of Changes. The more I read, the more I saw the connection between these two books. But, how can this be?