By Doug Marman
For over a hundred years, the bizarre mysteries of quantum mechanics have puzzled physicists. Most have given up trying to explain the strange behavior of subatomic particles. Scientists haven't been able to find an intuitive answer. As a result, the quantum revolution is incomplete, as I said in another article, because we haven't gained any wisdom in our lives from this great discovery.
Lenses of Perception offers a new approach. These mysteries do make sense and we can learn valuable lessons from them. We simply need to look at quantum behavior as the result of relationships. This offers us new insights into the true nature of life.
I'm still absorbing the meaning of it all. So, I keep running into discoveries that take me by surprise. For example, the realization just hit me that none of this is new. A deep understanding of the quantum enigma was known over three thousand years ago, under a different name.
This didn't occur to me until after I finished Lenses of Perception. As the first copies began shipping, memories of an ancient book, the I Ching, unexpectedly came to mind. All at once I had the oddest idea: The I Ching and Lenses of Perception are both describing the same thing.
What a strange thought. Could this be right? I began flipping through pages of the I Ching — The Book of Changes. The more I read, the more I saw the connection between these two books. But, how can this be?
---
By Doug Marman
The main premise of the Lenses of Perception theory is that there are fundamental lenses—ways of seeing—and we can only perceive through one lens at a time. A recent series of experiments validates this idea.
Researchers from Case Western University and Babson College published a study three weeks ago titled, Why Do You Believe in God? Relationships between Religious Belief, Analytic Thinking, Mentalizing and Moral Concern.
Their test results show that when people think of religious matters, their brains suppress critical thinking. And when they focus on scientific topics, their brain suppresses religious thoughts.
"It suggests religious beliefs and scientific thinking clash because different brain areas are involved in both cognitive processes."[1]
---
A Surprising New Look at the Origin of Life, the Laws of Nature, and Our Universe
By Doug Marman
"An important work for scientists who have suspected consciousness and subjective perceptions are fundamental to the universe and not some accidental epi-phenomenon. Marman's work brings first-, second-, and third-person points of view into the fabric of the universe. The reader will never look at the world the same."

Michael Clarage, PhD, Physicist
This book is not just for scientists, but for anyone who wonders how the universe came into existence out of nothing. Why is biological life irreducible? What are the deeper principles that create the laws of nature?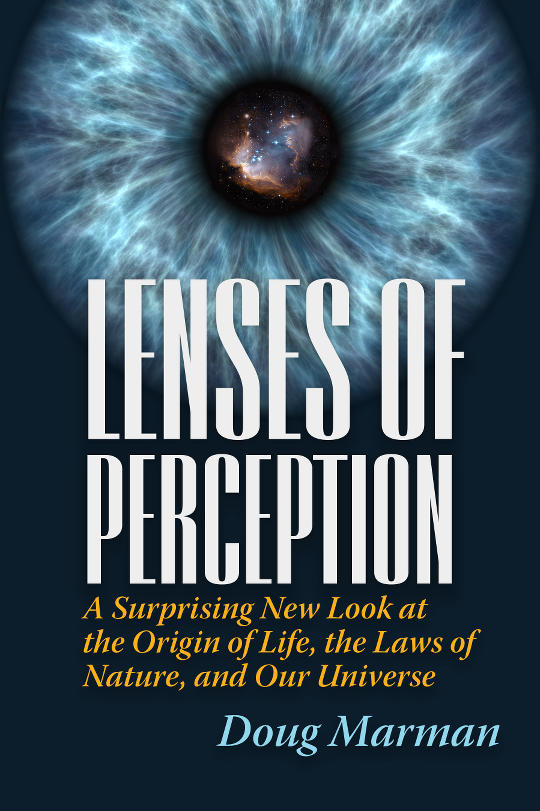 Lenses of Perception reads like a detective novel, as it dives into a study of the foundations of physical reality and discovers the surprising role of consciousness. The evidence comes from experiments run by leading scientists.
Our scientific way of looking at the world as outsiders was pioneered by Isaac Newton. This third-person "lens of perception" looks at the world objectively, as if we are outsiders looking in. This perspective allows us to analyze forces with incredible precision and ushered in our age of technology. But the limitations of this lens are clear.
It can't explain the paradoxes of quantum mechanics or figure out how life began. It doesn't even see consciousness, since awareness is invisible to outsiders. Physicists have been struggling with these problems for more than forty years. Some call it a crisis. Many believe something big is missing.