The Hidden Teachings of Rumi
by Doug Marman, Farzad Khalvati, Mitra Shafaei

This book reveals a secret that has been hidden for over 700 years. Behind the poetry that Rumi created out of love for his teacher, Shams of Tabriz, is a deep spiritual teaching. Each poem shares a poignant lesson about a spiritual message that can only be seen with eyes of love. 324 pages / $17.95

The Spiritual Flow of Life
— And the Science of Catalysts
by Doug Marman
There's a mystery at the heart of biology: What makes organisms alive? This book takes us on a spiritual quest to clearly understand life. Catalysts are keys to solving this puzzle. The new insights gained are transformative. Seeing the way life works—the way if FLOWS—changes what it means to be alive. 212 pages / $16.75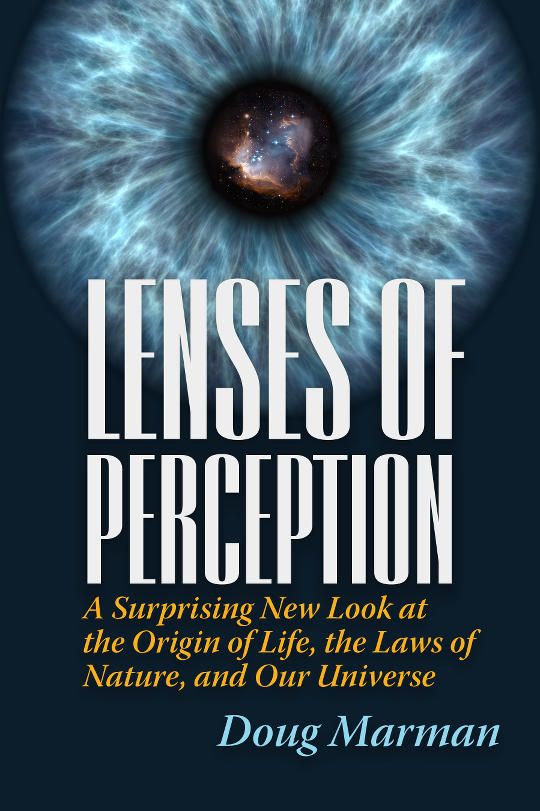 Lenses of Perception
A Surprising New Look at the origin of Life, the Laws of Nature, and Our Universe
by Doug Marman
How did the universe come into existence out of nothing? Why is biological life irreducible? What deeper principles create the laws of nature? Lenses of Perception reads like a detective novel, as it dives into the foundations of physical reality and discovers the surprising role of consciousness. 512 pages / $19.90.

SUKHMANI
The Secret of Inner Peace
by Doug Marman
Journey back 400 years, to see how the path of Ek was taught. This new translation and commentary restores the spiritual impact of this timeless insight into spiritual peace. Available in print and ebook formats. For info about ebook formats, click here.
205 pages / $6.75.

IT IS WHAT IT IS
The Personal Discourses of Rumi
by Doug Marman
Sit at the feet of one of the world's greatest spiritual teachers: Jalal al-Din Rumi. Experience the impact, as he shares his universal and timeless teaching. This new translation, with all new commentary, is a personal study program for those who want to learn from Rumi. 370 pages / $19.75.

THE SILENT QUESTIONS
A Spiritual Odyssey
by Doug Marman
This book is not about answers. It is about the power hidden behind questions that have haunted people since the beginning of time. The Silent Questions begins with a life-altering dream experience, followed by a series of unexplainable events that propel the author, Doug Marman, into a quest for truth. 330 pages / $18.95.

THE WHOLE TRUTH
The Spiritual Legacy of Paul Twitchell
by Doug Marman
In an age when the Western world has come to expect disillusionment from every public figure, this book tells a different story. It demonstrates how open and respectful dialogue restores confidence and acts as an antidote to the streams of half truths in public criticism. 521 pages / $19.95.